Introducing business bank accounts, 1st party and 3rd party data in our Aggregation gateway.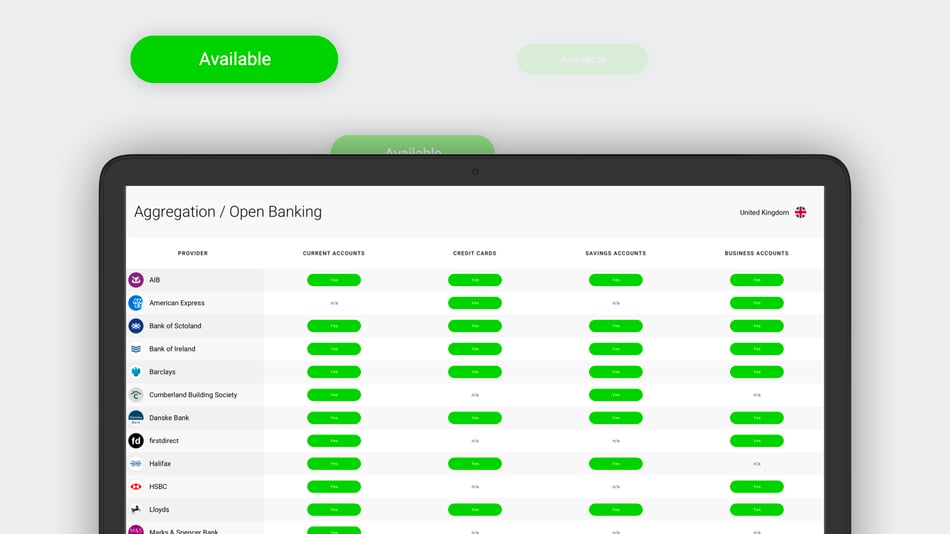 1st party / 3rd party
What do we mean when we talk about 1st party and third-party data?
Open Banking data is fantastic. It's reliable, standardised and can form the basis of invaluable insights but, in reality, it only represents a small fraction of the financial data created by customers. For most organisations, the first stop when it comes building insight into their customers is to look at their own data. But, just like Open Banking data, this tends to lack context without access to enrichment services.
Likewise, many companies that we've spoken to over the last few months have been doing some kind of Open Banking aggregation but are coming up against the same problem - access to lots of data doesn't necessarily mean lots of insight.
Let's start with some definitions:
First-Party Data - We define this as transaction data that originates through an end-user's actions on a client's platform. Its use will be governed by clients' terms and conditions and data privacy policies. With customer permission, clients can now send this data directly to our aggregation gateway at which point we can enrich it, use the enriched data to power one of our data services like Signal or Financial review, and return it.
Third-Party Data - This is defined as data that originates from an end-user's actions on a service that is neither Bud's nor the client's. The most common source of this will be clients that are using a third party aggregation service. Just like first-party data, with the appropriate permissions, this data can be sent directly to the aggregation gateway and will be ingested, processed and enriched alongside any Open Banking or first-party data.
Business Banking (and Starling)
Adding first and third-party data expands the range of data we can aggregate almost exponentially however it is absolutely not to be confused with a fall-off in our commitment to creating the best Open Banking aggregator out there.
That's why we've expanded our aggregator to cover the Business banking accounts offered by every one of the CMA 9 banks alongside accounts offered by some of the most popular business banking fintechs out there. The full list of business bank account providers is as follows:
HSBC
Tide
Barclays
Lloyds Bank
TSB
Natwest
Mettle
Bank of Scotland
RBS
Santander
Danske
Allied Irish Bank
Bank of Ireland
Starling (Also adds in support for Starling's consumer accounts)
Smart but secure data matching
Our approach to data security hasn't changed. We still ensure that we have no knowledge of who the final user is but alongside this update we've improved our process for creating user IDs so that when clients then connect a bank account, they are able to create a stable user ID that remains constant whether the data being attached is from Open Banking, first-party or third-party sources.
All of this data is encrypted using a key that is unique to the user ID and can only be decrypted by the corresponding secret. We aim to provide clients with complete confidence that their customer data is secure and as such, we do not keep a copy of those secrets.
Get in touch to find out more
We're convinced that the real value in driving a more open approach to financial data is in helping institutions to understand and better serve their customers. The first steps in that journey will always be in finding a way to build a full picture of someone's financial position and with these latest updates we've taken huge steps in that direction. If you want to find out how you can use enriched financial data to drive growth, get in touch below.
Get in touch
---