Open Banking and the future of Wealth Management in 4 prototypes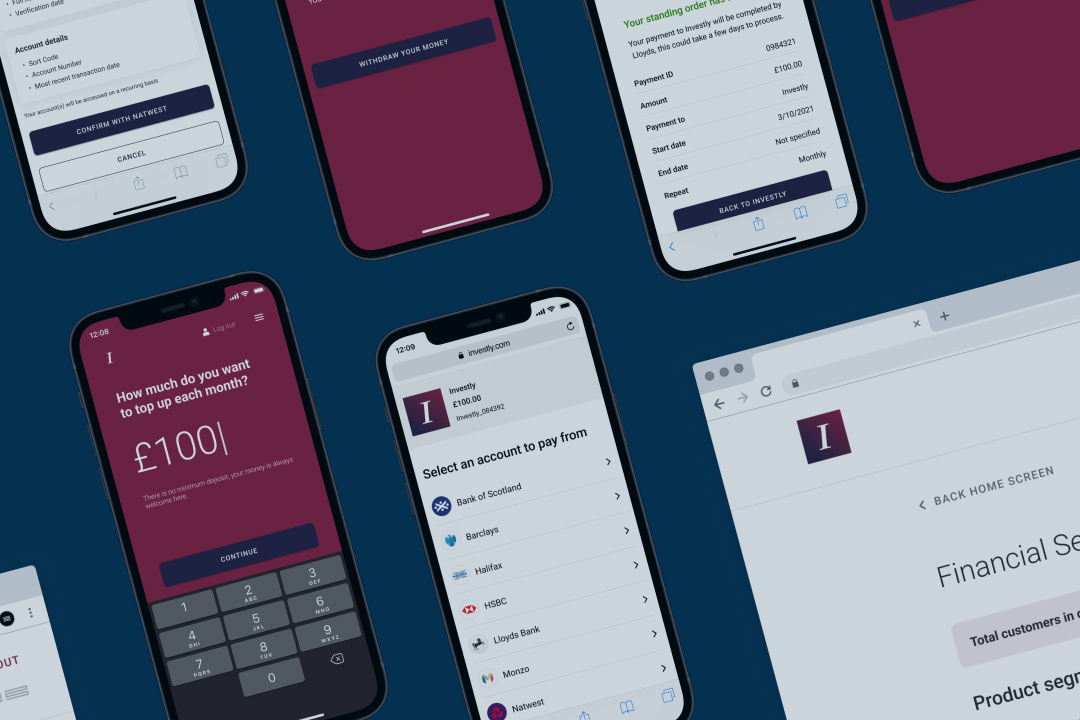 This is a varied space with an equally varied mix of use-cases, but as these conversations progress, it is becoming clear that there is a consensus roadmap amongst those forward-thinking businesses that are taking a strategic approach. There are variations on the theme, but broadly speaking, this is how they're tackling it: (For access to demo prototypes that outline the UX possibilities of these stages, grab the guide here or at the bottom of this post)
1. Account-to-account Payments
Deploying Open Banking payments into key parts of the wealth management UX allows businesses to eliminate most of the manual overheads associated with incorrect references on payments, it removes the possibility (and therefore the cost) of customers defaulting to the card rails and provides faster reconciliation vs alternative methods like Bacs. It makes for a faster, simpler process and is a logical first step. To get an idea of the UX check out the prototype here.
2. Solve onboarding and account verification
The next area where we're seeing traction is account verification during the customer onboarding process. This cuts "time to onboard" significantly and sets customers up to be able to fund accounts instantly on approval. Once in place, this provides another valuable outlet for account-to-account payments.
3. Create financial summaries for customers looking at more complex investments
The ability of solutions like Assess to replace manual form filling by the customer during suitability assessments is saving clients on average 3 - 5 hours of admin per assessment whilst providing a more consistent and complete picture of customers' finances.
4. Use insights to identify ways of creating new contextual touchpoints
Once clients are comfortable with the first wave of applications, they start to look at how more advanced uses of transaction data can create new sources of value within the business. Bud's intelligence capabilities can detect life events like bonus payments or changes of employment and help wealth managers turn those insights into valuable touchpoints by syncing the data with the Client's CRM.
5. Provide a single statement of position
Open Finance may not be here quite yet but recent progress on initiatives like the Pensions Dashboard has focussed minds on the prospect of a more fluid industry. Bud is one of three third-party providers to have been selected to work on the very first commercially available pensions dashboards and we're convinced that they will have a huge impact on the industry.
The future...
With Open Finance already in the works, it's a near certainty that wealth management will be transformed by the opening-up of financial data over the next 3 - 5 years. Those organisations that move quickly at this stage will set themselves up to make the most of this new paradigm and, as we've seen recently, that shift is happening already.
Working out how to start building the case internally for Open Banking? Grab the guide below for access to a user journey breakdown and a set of demo prototypes that outline the key steps that organisations can take now.
Download the guide to learn about the future of Wealth Management in 4 prototypes
---